If you had told me 7 years ago that I would become an Alabama football fan, I'd laugh. I always swore I'd never get into college football because there's too many teams and too much going on. Keep in mind this was during the time when the Giants were somewhat decent, so I didn't think I would need another football team.
People always look at me weird when I say that I'm an Alabama fan, mostly because I live in Connecticut. It's actually a long story but somewhat makes sense when I explain it all.
Back in 2009 on one Saturday afternoon, I was flipping channels and came across a college football game involving the Florida Gators. Tebow still played for them at the time, and I didn't particularly like him, so I decided to root for the other team. Which happened to be Alabama. The cameras panned the Alabama sideline, and I saw a cute player sitting on the bench. I remembered him number and later Googled him. It was AJ McCarron as a redshirt freshman.
I started to follow the team because of him, and it was helpful that they went on to beat Florida in that game to play Texas in the BCS. That was the game where Texas QB Colt McCoy hurt himself early on; my freshman year of high school, McCoy came to my school for some weird reason, but since I wasn't on the football team, I wasn't able to go see him.
So from then on, I followed the team and got to know the players and just really liked them. Not because they were good (well that helped), but they were such a dedicated and hardworking team with great personalities.
In 2011, McCarron led the Tide to another BCS win over LSU, two years after Greg McElroy did against Texas. McElory was drafted by the Jets in the 2011 draft but would soon retire from the NFL three years later in 2014. And then McCarron did it again the next year in 2012 with a win over Notre Dame. He declared for the draft in 2014 and was chosen by the Bengals.
Alabama suffered a loss against Ohio State last year in the first year of the College Playoffs, and going into this season, the team was hungry for a win in the Playoffs. The Ride put up fantastic numbers this season, led by Heisman Trophy winner and star running back, Derrick Henry, however losing against Ole Miss during the regular season. Alabama was able to bounce back and finish the season No. 2 in the CFP rankings. They played No. 3 Michigan State in the Cotton Bowl on New Year's Eve and won by a landslide, blowing out the Spartans, 38-0.
The 2nd annual National Championship game took place Monday night in the University of Phoenix Stadium in Arizona between No. 1 Clemson (who beat No. 4 Ohio State on NYE) and No. 2 Alabama. According to ESPN, the Tide had a 62% chance of winning.
I honestly didn't think Clemson was all that good, I just assumed it was a fluke that they were No. 1, but boy was I wrong. They were actually pretty good, and it was one of the most stressful Alabama games I have watched. During the regular season, Alabama outscored their opponents 420-166, so I was pretty used to blowouts or close to blowouts.
Enter Jake Coker, Alabama's current QB. Originally he went to Florida State University and was 3rd string behind EJ Manuel and Jameis Winston – both who are now QB's in the NFL (Bills and Bucs, respectively). Then he transfered to Alabama and was backup behind McCarron (who he was a back-up for in high school in Mobile), who now plays for the Bengals. I'm sensing a pattern here for Coker… This season, however, was his time to shine.
This season, he completed 66.9% of his passes with 21 TDs and 3,110 yards. During the National Championship he had a 64% completion rate with 2 TDs, 335 yards, and no interceptions.
He dreamed of winning a National Championship his whole life, and he can now say he led the No. 2 Tide to their fourth in seven years.
The game itself was incredibly intense. I wasn't sure it if was because it was between No. 1 and No. 2 teams or that each had something on the line to win. For Clemson, it could have been to bring back a National Championship to North Carolina for the first time since 1981 or for their head coach, Dabo Swinney, to win over his alma mater of Alabama. For the Tide, it was continuing the Nick Saban Dynasty and bringing a fourth National Championship to Tusaloosa in the last seven years.
Alabama scored first in the game on a 50 yard run by Henry, but Clemson answered back with two touchdowns to take the lead, 14-7. Henry had a 1 yard run in the 2nd quarter to tie the game before halftime. I was worried going into halftime that Alabama wouldn't be able to find a groove, but the 2nd half is when things got interesting.
Senior O.J. Howard caught a 53 yard pass from Coker to take the lead, 21-14. But Clemson fought back to take the lead with a field goal and touchdown to make it 24-21 by the end of the 3rd quarter. Alabama kicked a field goal to start the 4th quarter to tie the game before executing a successful onside kick to recover the ball and score on a 51 yard pass from Coker to Howard to make the score 31-24. Clemson was forced to kick for a field goal before Alabama's Kenyan Drake returned a kickoff for 95 yards to make the score 38-27. A Clemson TD and failed two-point conversion made the score 38-33. At 1:07 left in the 4th, Henry ran for 1 yard over a pile of red, white, orange, and purple at the goal line to give the Tide a 12 point lead at 45-33. The Tigers scored with 12 seconds left, however it wasn't enough to overtake the Tide.
Final score: 45-40, Alabama.
Cue the confetti and everyone rushing the field. Moments before the end of the game, Tide players dumped Gatorade on Saban, who didn't look too happy about being doused.
The Tide was presented with the trophy, and Saban even smiled – finally.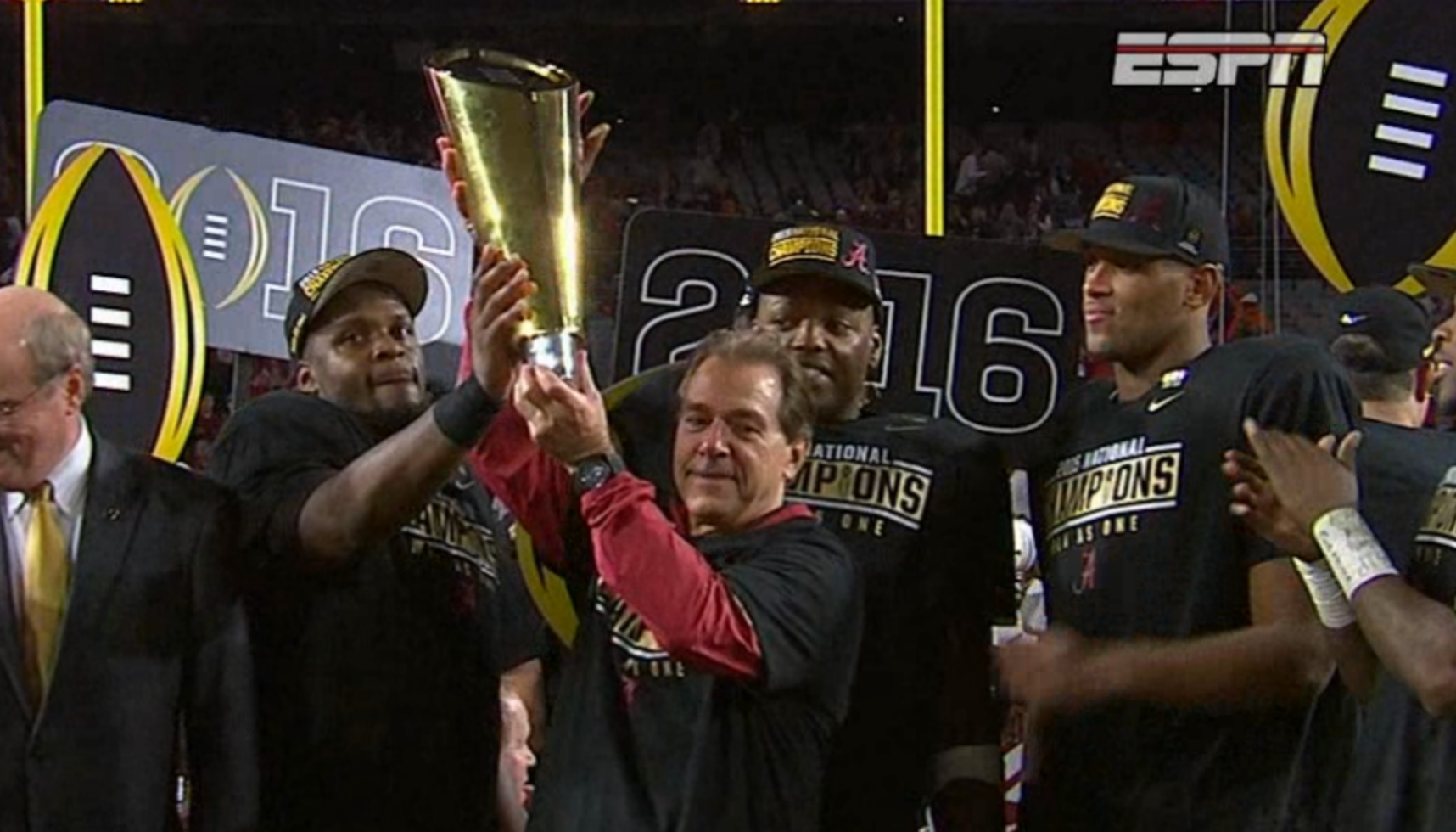 Players ran to their families who were still in the stands to celebrate, and just to see the joy and happiness on the players' faces was amazing. They worked so hard during the season, especially to come back from the loss to Ole Miss just three games in. Plus not to mention knocking off an undefeated team.
One of the funniest things I think that happened occurred after the game but wasn't reported upon until the next day.
Like how do you forget your offensive coordinator? Did no one do a head check before leaving? (When I managed my high school's baseball team, Coach would always do a head count before we went anywhere, and there was only about 20 of us).
"My bus is leaving," Kiffin told reporters in Glendale, Arizona, as he watched the four team buses pull away, according to FoxSports.com. "That's not good. … They're leaving right now. Crap."
Kiffin has had his fair share of bad experiences of being left behind by college teams.
"First, I get fired on the tarmac, and now I get left behind at the national championship," Kiffin said, referring to his dismissal as USC coach at a private Los Angeles airport on Sept. 29, 2013.
Thankfully Kiffin eventually made it to the plane.
The Tide arrived back home in Tusaloosa last night. Saban has said that this team has been his favorite so far, and I might have to agree with him. Of course I've loved every National Championship team they've had, along with the teams during the seasons they just missed going to the BCS or last year in the CFP. The coaching staff does its job and does it well. I'm so proud of everything they've been through this season and wish success for those entering the draft and those who will be returning to hopefully lead the Tide to a back-to-back National Championship run.