Sunday 3/6: Joseph Randle gets arrested for the SIXTH time in 17 months.
You gotta be kidding me.
This is an unexpected follow-up to a previous TWIS story.
On Sunday morning, the former Cowboy RB was arrested on charges of failure to appear in court… for the fifth arrest he had on February 21st. He is being held on $150,000 bond.
I don't know which story is worse: this one or the Mets pitcher who received a lifetime ban from MLB for three positive drug tests in a year.
Someone please enlighten me as to why Randle keeps getting arrested. It's probably the same cops who get the call, and they do rock-paper-scissors to see who has to go arrest Randle, again.
Monday 3/7: Peyton Manning retires.
Cue week-long video montages of The Sheriff on SportsCenter. On Sunday, Manning announced that he was going to announce his retirement Monday, so actually SportsCenter was able to get a jump start.
Manning held a press conference Monday afternoon, where he thanked Colts, Broncos, and University of Tennessee fans and tried to sum up all of his career accomplishments in the NFL. For those of you keeping track at home, that includes 18 season, five MVP awards, two Super Bowl wins, and a bunch of passing records.
He will retire as the NFL's all-time leader in passing touchdowns and passing yards, 539 and 71,940 respectively. He had 186 quarterback wins, tied with Brett Favre. Manning has 14 Pro Bowls and seven first-team All-Pro selections to his name. Not too shabby.
Manning's legacy will be talked about for years to come, and no matter what team you root for, he's just one of those players you have respect for (he's like the Jeter of the NFL, and quite literally since both played into their 40s… Peyton is turning 40 later this month).
I wish him nothing but the best, and the Sheriff was going to go out in the best way possible: Super Bowl 50 champion.
And for old time's sake…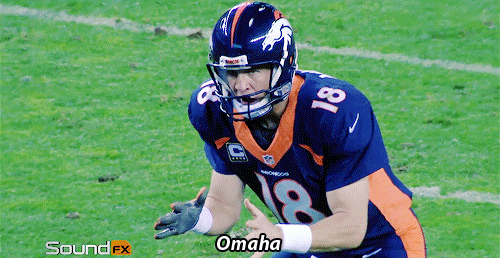 Tuesday 3/8: Red Sox top pitching prospect broke his hand in a spring training fight.
File under: idiotic things players do during spring training, especially if you're a pitcher.
Oh, according to ESPN, this isn't the first time Michael Kopech gotten in trouble. More on that later. He suffered a small fracture of his right hand during an "altercation" with his roommate a few days ago. The roommate remains unnamed, but GM Mike Hazen isn't too happy with the 19 year old.
Six months ago, he finished serving a 50-game suspension for violating the minor league drug policy. Yeah, he's a real winner.
"It's disappointing, very disappointing. It was stupid," Hazen said. "He's going to have to grow up, obviously, with the things that have happened so far." (From ESPN)
Kopech was drafted out of high school and had a 2.63 ERA in Single-A Greenville before testing positive for Oxilofrine – a stimulant drug and amphetamine that is sometimes an ingredient in dietary supplements.
These young kids have to mature and mature quickly if they want to ever see the professionals. Older players or members of the coaching staffs should become mentors for these children (yes, children because they're still teenagers) so they stay on the right path and are successful.
Wednesday 3/9: Brock Osweiler signs a 4 year $72M deal with Texans.
Whelp, it looks like everyone is leaving the Broncos. Osweiler packed his bags, said "Aidos" to John Elway, and went to Houston.
This happened just days after a video surfaced of the QB pushing a woman outside of a party while holding a box of pizza. Classy.
The Broncos offered Osweiler $16M a year, but the Texans' deal gives him $18M – ooh, an extra $2M. He will most likely start over last season's QB1, Brian Hoyer, but who knows. At least he doesn't have to live in the shadow of the Sheriff anymore.
Thursday 3/10: Goose Gossage goes off about the current state of the MLB.
The former pitcher for the Yankees shared his opinions about bat flips and analytics to ESPN. He particularly singled out Blue Jays outfield Jose Bautista (aka Joey Bats) who is notorious for his bat flips after crushing home runs:
Bautista is a f–king disgrace to the game. He's embarrasing to all the Latin players, whoever played before him. Throwing his bat and acting like a fool, like all those guys in Toronto. [Yoenis] Cespedes, same thing. (Bleacher Report)
Tell us how you really feel.
Gossage also took shots at "nerds," as he called them – those who are leading the way in sabermetrics and analytics in the game.
The game is becoming a freaking joke because of the nerds who are running it. I'll tell you what has happened, these guys played rotisserie baseball at Harvard or wherever the f— they went and they thought they figured the f—ing game out. They don't know s—.

A bunch of f—ing nerds running the game. You can't slide into second base. You can't take out the f—ing catcher because [Buster] Posey was in the wrong position and they are going to change all the rules. You can't pitch inside anymore. I'd like to knock some of these f—ers on their ass and see how they would do against pitchers in the old days. (Bleacher Report)
Because knowing more about the game and how to strategize is a bad thing? The game has definitely evolved since Gossage played; change is a good thing. MLB is improving how things are done, punished, and run so that the players stay safe, happy, and healthy for 162 games a season.
The one thing I do agree with Gossage about is how Brewers fans treat Ryan Braun.
Ryan Braun is a f–king steroid user. He gets a standing ovation on Opening Day in Milwaukee. How do you explain that to your kid after throwing people under the bus and lying through his f–king teeth? (Bleacher Report)
(Don't get me started on my thoughts about Braun and his horrible lying abilities).
Friday 3/11: Johnny Manziel gets the boot and Mark Sanchez gets desperate.
This one is a two-parter as these events happened within about three hours. The only thing that would make this better is if Sanchez replaced Manziel.
As I've talked about before, the Browns were going to cut Manziel because he's a hot mess. With all of the legal trouble that comes with Cleveland's first round pick in 2014, it was just going to get worse and the off-field distractions were effecting his playing ability; well sort of. His numbers weren't like they were when he was an Aggie, and it was one of the (many) reasons why the Browns sucked last season.
Then just a few hours later, I got notifications saying that Sanchez was acquired by the Broncos. Last season, Sanchez flip-flopped starting with Sam Bradford as both of them battled injuries. So as Denver got a replacement for the Sheriff, the Eagles got a conditional draft pick. Hopefully they'll use it to draft a decent quarterback.
Saturday 3/12: Steelers WR Martavis Bryant faces a year-long suspension from the NFL.
His possible suspension is related to the NFL drug testing, and his agent said Bryant plans to appeal the suspension. Last season, he served a four-game suspension for violating the league's substance abuse policy. Upon returning, he put up good numbers for the Steelers, but off-field problems are preventing him from reaching his full potential.
A season-long suspension is 16 games in the NFL, unlike 162 in the MLB. But a lot can happen in those 16 games, so it will be interesting to see what the Steelers do with Bryant in the future.