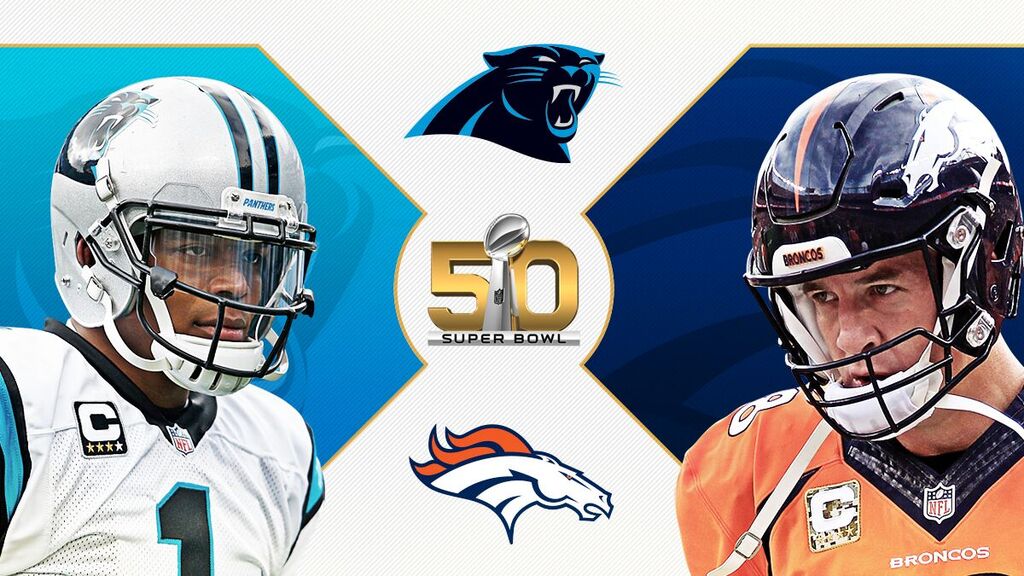 Sunday 2/7: There was a football game?
I was rooting for the Denver Broncos because of my alliance to the Manning brothers. My mom made a bunch of snacks – including mozzarella sticks, wings, nachos, cheeseburger sliders, and homemade ice cream sandwiches – and it was definitely worth it for me to go home. I also watched the Puppy Bowl, and thankfully my dogs weren't too obnoxious.
There was a little pre-game event on the field before the game started of all of the Super Bowl MVPs from the first one to last year. It was pretty cool to see all of the players, and even more fun to yell when none of them went out to the yellow circle where they were supposed to stand and wave to the crowd. Like did no one give them directions beforehand?
The game was a pretty close one, in part to Denver's #1 defense in the league. When I've been so used to the 32nd (shout out to the G-Men), it's weird to see D-linemen actually doing their job. If Cam Newton didn't go to Auburn (and wasn't involved with the pay-for-play scandal), I think I'd actually like him. It was nice that he got MVP, but that honestly sucks to get that award and then lose in the Super Bowl. There's always next year, because we all know the Giants aren't going to make it.
(I did not watch the half-time show because I was driving back to school, so please no questions about that).
The Broncos beat the Panthers, 24-10, in Super Bowl 50.
Oh, and Marshawn Lynch vaguely announced his retirement via Twitter during the game.
Monday 2/8: Cuban infielder Yulieski Gourriel leaves team in Dominican Republic in attempt to launch MLB career.
Not only did Gourriel leave the country, but his younger brother followed him, too, in hopes of starting MLB careers in the United States. Yulieski has had the eyes of MLB scouts since his appearance in the 2006 World Baseball Classic, and his brother is known to be a good prospect. The brothers were in the DR to play for the Ciego da Aliva Tigers and didn't publicly disclose their plans. According to ESPN,
Cuban and U.S. baseball officials are working to create a legal framework for Cuban residents to join the major leagues, but for the moment both Cuban law and U.S. law contain restrictions that make it impossible.
More than 200 players have left Cuba over the last two years along with junior players, all with hopes to have a major-league career.
Tuesday 2/9: Clippers suspend Blake Griffin 4 games without pay.
This story originally began a few weeks ago when ESPN broke the news that the Los Angeles Clippers' power forward broke his hand in an altercation with a member from the team's equipment staff. Since then, the NBA had been looking into the situation and this week announced a 4 game suspension for Griffin.
He will begin his suspension once he is healthy and cleared to play since he was expected to be out two-six weeks after the incident, which happened January 23rd. Griffin will lose $859,442 from his season salary of $18,907,725 – so pocket change for him. The only good thing coming out of this is that the Clippers will donate his salary from the suspension to charities that help disadvantaged youth in Los Angeles.
My question is: was it worth it? There's never a good reason to hurt or strike any staff member of a professional team. No matter what they actually fought over, Griffin should have just walked away. I'm not a basketball fan, but I knew Griffin was good and respected in the league. Now, I look at him differently because of his actions, and I could only imagine others feel the same way, too.
Wednesday 2/10: Bills' LeSean McCoy will turn himself in if charged in alleged assault.
An altercation happened early Sunday morning at a nightclub involving four individuals and off-duty police officers, and one of the individuals has been named as Buffalo Bills' running back LeSean McCoy. The argument began over ownership of a bottle of champagne. Pushing and shoving ensued, and one of the officers was knocked to the ground where he was punched and kicked by all four suspects. Another off-duty officer joined club security to break up the fight, and both officers were brought to a hospital for treatments of cuts, broken nose and ribs, sprained thumb, and possible skull fracture.
Arrest warrants are expected to be issued for those four suspects, including McCoy, who would be charged with aggravated assault. His lawyer told Outside the Lines his client would turn himself in if he is charged.
Just like the Griffin story, this is another worrisome incident that might have been prevented. However, McCoy is holding himself responsible by saying he will turn himself in if charged and isn't doing a run-around of innocence to make things worse. I don't know if he'll receive any punishments from the NFL, but he should receive something for his actions. He is signed with the Bills through 2019.
Thursday 2/11: Raiders to sign 1-year deal with O.Co Coliseum.
Why would a team voluntarily stay in that horrendous stadium?
In 2013, the Oakland A's (who share the stadium with the Raiders), experienced some awesome features of the O.Co: sewage flooding up into the dugouts. Yeah, it sounds as gross as you think it is. Yet nothing is being done really overall to fix the 50 year old stadium; I'm not asking for high-tech upgrades, but maybe working plumbing would be a good start.
The Raiders have the option to move to LA in 2017, and they were without a home until they came to the one year agreement with the glorious O.Co Coliseum.
Friday 2/12: Mets pitcher Jenrry Mejia received a lifetime ban from MLB for a 3rd positive PED test.
I was shocked when I got this notification and not until I read the article online did I realize how stupid he is.
It was his third positive PED test in the past year. He got an 80-game suspension in April for his first positive test, and three weeks into his return in July, he was suspended 162 games for a second positive test.
His drugs of choice were boldenone and stanozolol, both of which are anabolic steroids. And very illegal in the world of baseball.
He is also banned from playing minor league baseball and MLB suspensions are honored in leagues in Japan, South Korea, and Mexico. If Mejia wants, he can apply to commish Rob Manfred (my favorite and 10x better than Bud) for reinstatement in one year; if reinstated, he would have to sit out for at least two years before being able to pitch again.
Oh, and he's 26.
Saturday 2/13: JPP uses x-ray of his hand as Instagram and Twitter avatar.
In another case of pure stupidity, we have defensive end Jason Pierre-Paul and his right hand. As everyone knows (or I hope knows), JPP blew off his index finger and part of his thumb on July 4th from holding a firework. He didn't sign with the Giants until the end of October, and once he hit the field, he had to wear a club on his hand to protect what few fingers he has left.
Today it was reported by Bleacher Report that JPP has used the x-ray of his hand as his avatar for Twitter and Instagram. It's kinda graphic, so I won't put it in this post, but there's a short article on Bleacher Report you can read if you feel so inclined.